Karim Garcia becomes reinforcement for Dominican team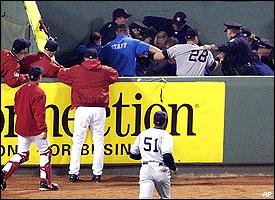 1/8/11, Santo Domingo, "
Mexicans Karim Garcia
, outfielder, and Paul Ortega, right-hander, is the new reinforcement of the Lions, said Friday the overall management of capital.
Both come to play in the Mexican Pacific League, Deer Ortega García Mazatlan and Hermosillo Naranjeros.
The veteran outfielder will be arriving on Saturday the country will join the roster of the Reds on Sunday, while the pitcher is scheduled to arrive Friday night.
A veteran of 10 seasons in the majors, Garcia batted .333 in the 22 games he played with the Naranjeros.
Shot in 78 shifts 26 hits, including 2 doubles and 9 homers, drove in 31 runs, scored 26, with a base percentage of .391, slugging .705 and an OPS of 1.0966.
In the playoffs ended with average of .250, connecting 4 hits in 16 trips to the plate, including a double, and scored 3 runs produced the same amount. Garcia bats and throws left-handed."...
1/8/11, "
Karim Garcia comes to Chosen

,
" Listin Diario, google translation from Spanish.
original Spanish
.
Also Game 3, 2003 ALCS, NYY v Boston, Pedro throws
Don Zimmer to the ground
Above photo Listin Diario
Labels: Karim Garcia provides reinforcement to Dominican team
Tweet
Stumbleupon
StumbleUpon